BRINGING A DISTINCT QUALITY AND WORKMANSHIP FOR YOUR BRANDS.


About Us
Jordone Group, the Brand Builder
Staying on the right and unique position, we believe our brands will harness their power to inspire long and lasting relationships with customers. Through our extensive distribution networks and operations excellence, our brands have the unlimited potentials to unlock the value and create new opportunities for growth.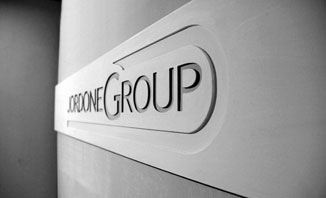 Overview
The Jordone Group is one of the industry leaders in brand building, concept development, fashion designing, marketing, distribution and retailing for casual and business wears in Malaysia. The Group's office is located in Balakong, Selangor. It is built on 80,314 square feet of land, housing 50,000 square feet of office space and 115,000 square feet of warehousing spreading over 2 floors.
As of December 2011, the Group operates over 676 shop-in-shops, concept stores and boutiques and employs approximately 1,000 employees. The Group owns and licenses a portfolio of highly recognized brand names. The trademarks owned by the Group generated approximately 70% of the Group's revenues during the Fiscal Year 2011, whereas 30% of the Group's revenues were generated by license portfolios.
Our Vision
To be a powerful brand builder in ASEAN and ultimately a world-class entity.
Our Mission
Sustain a healthy growth through teamwork.
To be competitive through the provision of quality products and good customer service to grow the market share of the Group.
To lead the convergence of fashion trends to instill brand awareness and upgrade the fashion consciousness of all stakeholders.
To continue investing in our people through a variety of training and development opportunities.